Akamata (アカマタ Akamata, lit. Red Face) is a powerful yōkai from South Asia, who is often seen working with Chinpo and Yashi-Otoshi. He first appeared in the Shonen Magazine chapter Yōkai Army.
Appearance
His true identity in early adaptations until the third anime was unclear as he, in gas-like form, possesses human and animal bodies. Akamata in earlier adaptations appeared as a gas-like yōkai possessing the body of an old man.
Personality
In the fourth anime, he has an intense hatred for the many Japanese people that appear on the island in the hopes of profiting from the water of life, and longs to overpower them for good.[1]
History
He appears in Episode #39 of the first anime adaptation, Yōkai Army.
He appears in the first movie based on the third anime adaptation, GeGeGe no Kitarō (1985 film).
He appears as the main antagonist in the fourth anime film, GeGeGe no Kitarō: Dai-Kaijū.
He appears in Episode 25 and 71 of the fifth anime adaptation, The Great Yōkai Sports Festival and Southern Yōkai Landing on Japan!!
In this adaptation, he is actually a friend of Kitarō, and one of the 47 Yōkai Warriors. He's also a member of the South Asian Yōkai Five (南方妖怪五人衆), along with Asanbosam, Yashi-Otoshi, Chinpo, and Langsuyar.
He appears in the second ending of the sixth anime adaptation, GET A NOTE.
Powers and Abilities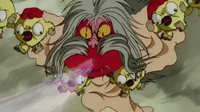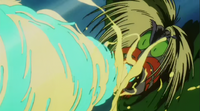 Possession
Transformation
Breath Attacks: Akamata can use his breath to petrify his target. In addition, he can spit acid,[2] and he can use his breath to sap the energy of someone.[3]
Whirlwind
Poison Sucking
Enhanced Flexibility: As a snake, Akamata is very flexible, and is capable of coiling around his targets to bind them.
47 Warrior Power Activation: When he was chosen to be one of the 47 Warriors, he transferred Kitarō his power, and Kitarō's internal electricity formed a shape of a giant serpent.
Legend
According to Shinto belief, it's one of a group of three gods: Akamata (アカマタ, Red Face), Kuromata (クロマタ, Black Face), and Shiromata (シロマタ, White Face). Akamata and Kuromata are said to be husband-and-wife, and Shiromata is their child. The term "Mata" in this case refers to the masks that the Gods would wear. It hails from the Yaeyama Islands in the Okinawa Prefecture. Very little is known about the Akamata, as the myth surrounding the deity is shrouded in secrecy. Non-islanders aren't allowed to take photos or see the ceremony in which these Gods are summoned, making information on it scarce.[4] Akamata is also sometimes depicted as a female serpent-yōkai.
Trivia
When Akamata first debuted in Yōkai Army in 1968, Okinawa was not part of Japan, but was instead a territory of the United States until 1972. This is likely the reason Akamata was initially classified as a South Asian Yokai.
References
Community content is available under
CC-BY-SA
unless otherwise noted.