Asanbosam (アササボンサン Asasabonsan) is a vampire from South Asia and an adversary of Kitarō. He first appeared in the Shonen Magazine story Blood Battle Ogasawara.
Appearance
Personality
History
Shonen Magazine
1968 Anime
Asanbosam appears in episode #52 of the first anime adaptation, Vampire Yōkai Gang.
1985 Anime
Asanbosam appears in episode #96 of the third anime adaptation, Blood Battle!! Yōkai Vampire Corps.
1996 Anime
Asanbosam appears in episode #104 of the fourth anime adaptation, Terror! The Island of the Vampires.
2007 Anime
Asanbosam appears in episodes #71 and 76 of the fifth anime adaptation, Southern Yōkai Landing on Japan!! and Strongest Tag Battle!! Southern Chinese Yōkai!!
In that adaptation, he is a member of the South Asian Yōkai Five (南方妖怪五人衆), along with Akamata, Yashi-Otoshi, Chinpo, and Langsuyar.
2018 Anime
Asanbosam is mentioned by Agnès along with Penanggalan as unlikely candidates of causing the recent vampiric incidents.[1]
Powers and Abilities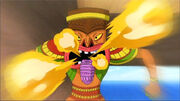 Bloodsucking (吸血 Kyūketsu): As a vampire, Asanbosam is able to suck the blood of his victims.
Rosin
Sap
Legend
Asanbosam is a species of vampire from western Africa (Ashanti Empire, Republic of Côte d'Ivoire, Ghana, Togo). There are males, females, and children. They live in deep forests with humanoid-like appearances but with teeth of iron and hook-shaped projections on the legs. With the legs, they hunt humans and carry up on trees and suck bloods from thumbs.
Asasabonsan's design by Mizuki Shigeru may be based on indigenous artworks by Maori People of New Zealand.
References