Baruru Island (バルル島 Baruru Tō) is an island of New Guinea from the 1996 anime movie GeGeGe no Kitarō: Dai-Kaijū.
Description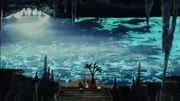 Baruru is a beautiful tropical island inhabited by Southern Yōkai and locals. The islanders coexist with Yōkai and respect them, knowing their home and their sacred place, the natural pool in which the skeleton of Zeokuronodon is preserved.
Inhabitants
History
1996 Anime
A Japanese tabloid magazine features an article about the legend of the "Water of Life", giving a very misleading story that the water grants immortality. A numbers of greedy Japanese people rushed to the island, polluting it in the process, including the Southern Yōkai's favorite areas. This caused the Southern Yōkai to take revenge on the Japanese.
Trivia
This is the only time the island that the Dai-Kaijū story takes place in has been given a name while all versions of the story took place on an island of New Guinea.
Gallery
References