Obi-Wan Finale - The Loop
Play Sound
Dracula (ドラキュラ), is a vampire and a member of the Western Yōkai. He has battled Kitarō many times alongside either the Western Yōkai or other vampires, often as the leader. He first appeared in the story Shonen Magazine story The Great Yōkai War.
As with many recurring villains, several characters named Dracula have appeared, but it's not always clear whether they are different characters or not.
Appearance
Personality
History
Dracula first appeared in I'm a Freshman, where he is brought into the Brigadoon by Professor Gamotsu to give a lecture on blood-sucking at the Obake University.
In The Great Yōkai War, he served as Backbeard's lieutenant in the war against the Japanese yōkai. He was presumed killed in the climactic final battle.
A Professor Dracula (ドラキュラ博士, Dorakyura-Hakase) appeared in Blood Battle Ogasawara as an authority on Yōkai Medicine. He leads Penanggalan, Asanbosam, Langsuyar and Shina-Yasha in an attack on the blood bank on Mount Osore to get blood for the dying Kyūketsuju. Even though he was able to trap the Kitarō Family twice, he quickly runs away once Kyūketsuju is defeated. A Dracula doctor also appeared in Kitarō's Vietnam War at the Yōkai Hospital underneath New York City. He examines Spy 67 while Medama-Oyaji is inside her womb.
In Shinigami Tai-Senki, Dracula appears as a minion of Satan. He first leads the Western Yōkai Army with Witch and Wolfman in an attack on Japan, but is repelled by Kitarō's army. He later tried to defeat Kitarō with the Mummy's help, but was again defeated. In the end, he was sucked into Kitarō's gourd and exiled into space with Satan.
A Boss Dracula (ドラキュラ親分, Dorakyura-Oyabun) appears in Kitarō's World Obake Tour as the leader of a gang of yōkai from around the world. He had Medama-Oyaji kidnapped to be a replacement for his bad left eye, but the Kitarō Family interrupted the operation and saved Medama-Oyaji. After this and later being swindled by Nezumi-Otoko he bore a grudge against the Kitarō Family and began sending various yōkai from around the world after them. He and his gang tried one last time to kill Kitarō in the Roman Colosseum but were defeated by Kitarō's hair needles.
In Hakaba no Kitarō: Yōkai Lockheed, he and Wolfman work as minions of the Great Witch. They wear human masks and collect money from businessmen to fund their misdeeds. All three of them are eventually defeated when Kitarō dissolves them with Yōkai Solution.
In Sumo, Dracula is one of several vampires trying to steal Kitarō's blood for it's healing properties. He is hired by the American Homerun King to get the blood but is deported with the other vampires after Momoko's true identity is made public.
In Yuki-Hime-chan and GeGeGe no Kitarō, Dracula, Wolfman and Frankenstein run a kidnapping ring where they abduct babies with psychic abilities and sell them to wealthy nations. He tries to capture Yuki-Hime by transforming into a bat and sucking her blood, but her blood returns to her on it's own and he runs away defeated. He later comes across Iyami's discarded body and uses it to get close to Yuki-Hime, but Iyami uses his Tongue Lighter to burn Dracula and his crew alive.
Dracula reappears in GeGeGe no Kitarō: Kitarō Jigoku Arc with Wolfman leading a large number of vampires in an attempt to steal blood from Jigoku, as the AIDS outbreak of the 1980s has made pure human blood hard to find. They also plan to take over Jigoku by finding Gasha-Dokuro's cursed jar and gathering a collection of large bones in order to make a Gasha-Dokuro puppet. They capture the Kitarō Family and get the location of the jar from them, but after obtaining it Gasha-Dokuro arrives and grabs them. They are then exiled from Jigoku.
In GeGeGe no Kitarō: Yōkai Sen-Monogatari, he reappears as a senior member of the Western Yōkai Army. He is immensely powerful and nearly annihilates the Japanese yōkai, even killing Kitarō and turning him into wine. However, Nezumi-Otoko accidentally drank the wine, allowing Kitarō to revive himself with the powers of his chanchanko. In the end, he is destroyed when he is thrown into sunlight and disintegrates.
In the film GeGeGe no Kitarō: Yōkai Tokkyū! Maboroshi no Kisha, an unnamed vampire with a slightly different appearance takes Dracula's role as leader of the Western Yōkai Army. He turned Kitarō into coal to fuel the Phantom Train, but Kitarō uses the power of the train to return to normal and defeat him. He used his cape and top hat as a weapon.
In the fifth anime, he is named Dracula II (ドラキュラ二世, Dorakyura Nisei), the predecessor of Dracula III, and his generation is said to have fought in the original Great Yōkai War 12 years prior. In episode #68, he reunites with the original Frankenstein, Witch and Wolfman and launches an all-out attack on Jigoku, where he blocks the way of the Kitarō Family.
In the game GeGeGe no Kitarō: Ibun Yōkai Kitan, he is a failed business man who works for Giga in exchange for having his debts erased. He acts as commander of the Western Yōkai Army and leads Elite, La Seine, Lon Lon, Karika, Frankenstein and the Wolfman in battle against Kitarō. He is once again depicted as having knowledge in yōkai medicine.
Powers and Abilities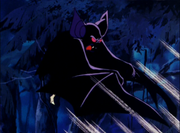 Bat Transformation
Legend
Dracula is based on the character from the Bram Stoker novel of the same name and is modeled after Bela Lugosi's portrayal of the character in 1931 film adaptation.
Trivia
References