Enma-Daiō (閻魔大王, meaning "Yama") is a deity from the anime and manga series GeGeGe no Kitarō. In the fifth anime adaptation, he is one of the 13 Kings of the Underworld. His first appearance was Kanko Takeuchi's Hakaba Kitarō.
Appearance
His appearances including size varies throughout the series, from human-sized figure to towering giant.
In the 2007 anime, Enma-Daiō is a giant man with red skin, black messy hair, beard and eyebrows and a mouth with prominent, yellow fangs. His eyes have blue irises and black pupils and his hands have long black nails. He wears a purple kimono with short sleeves and yellow sleeve cuffs, underneath is an olive green kimono with baggy sleeves and over both is a dark purple robe, similar to those worn by Buddhist monks, with a red border, side slits for the legs, a large red circle with a yellow background and the first kanji of his name, it is tied over his right shoulder with a gold ring. He additionally wears a hat with tall dark purple rim with yellow borders at the frontmost is a separate red rim with yellow borders, a triangular pointed tip and a yellow kanji meaning "King" and black sandals.
Personality
In the first series, Enma is shown observing humans through their Sanchū and sending orders to random Yōkai to kill evil humans.
History
He makes his first anime appearance in episode #20 of the first anime adaptation, Nezumi-Otoko and Neko-Musume.
He appears along with his 13 Kings in episode #88 of the fifth anime adaptation, Yōkai Do-or-Die Spirit!! Hell Traversing Quiz!!.
He appears in episode #51 of the sixth anime adaptation, Enma-Daiō's Secret Bargain.
Other medias
Enma-Daiō's first debut was in the Hakaba Kitarō by Kankō Takeuchi, predating the character's appearance in Shigeru Mizuki's series.
Powers and Abilities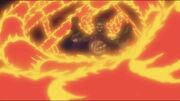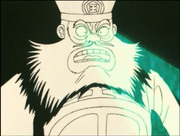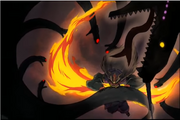 Holding Jigoku: Enma-Daiō can single-handedly support the weight of the entirety of Jigoku.
Divne Powers: He noted that if he fights on living world himself, he would cause massive damages.
Reincarnation Manipulation: Being the ruler of Jigoku, Enma-Daiō is able to manipulate the process of rebirth and reincarnation, allowing him to decide when and where the target will be reborn.
Contact: Enma-Daiō is also shown to have the ability to communicate directly with Yōkai through in the air or in their dreams. In Jigoku, he can appear anywhere as a hologram-like figure, but still can cast his abilities.
Cloud Manipulation: In the GeGeGe no Kitarō: Sennen Noroi Uta, he controlled clouds in the sky and sent a message to others.
Thundercloud and Rain: Enma-Daiō's anger can cause thunderclouds and rains especially in winter.[1]
Jigoku's Ultimate Secret Art (地獄究極奥義 Jigoku Kyūkyoku Ōgi): In the 2007 anime, Enma-Daiō invented each techniques, and he can summon the powers of Jigoku without the Jigoku Key, and understandably his techniques, for example the Gokuen Ranbu, are on completely different level than that by Kitarō as the deity can instantly destroy entire legions of western yōkai.  
Sizeshifting: He can change his physical size from human-size to towering giant.
Eye Beam: He can emit green energy beams from his eyes to attack his target. When it hits, bolts of energy pierce through their body.
Physical Prowess:
Sanchū and Yōkai Sending: He can order and send his minions as agents to the living world.
Equipments
History TV
Naginata: In the 2018 anime, he can summon a naginata to wield in combat.
Legend
In East Asian and Buddhist mythology, Yama (sometimes known as the King of Hell, King Yan or Yanluo) is a dharmapala (wrathful god) said to judge the dead and preside over the Narakas ("Hells", "Hell Realm" or "Purgatories") and the cycle of afterlife saṃsāra.
Although based on the god Yama of the Hindu Vedas, the Buddhist Yama has spread and developed different myths and different functions from the Hindu deity. He has also spread far more widely and is known in most countries where Buddhism is practiced, including China, Korea, Japan, Taiwan, Vietnam, Bhutan, Mongolia, Thailand, Nepal, Sri Lanka, Cambodia, Myanmar and Laos.
References