Jurassic World: Dominion Dominates Fandom Wikis - The Loop
Play Sound
For the other wind god, see Kaze-no-Kami.
Fūjin (風神 Fūjin) or Kaze-no-Kami (風の神 Kaze-no-Kami) is a God of wind and is the partner of Raijin a God of thunder.
Appearance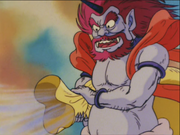 Personality
Along with Raijin, he has been known as a friend of Sunakake-Babaa in 1985 and 1996 anime adaptations.
History
1985 Anime
He first appears in episode 14 of the 1985 anime, Immortality!? Yōkai Sazae-Oni.
1996 Anime
He appears in episode 16 of the 1996 anime, Akaname and Shiro-Uneri. As Akaname and Shiro-Uneri became gigantic and battled in a city, Sunakake-Babaa called Fūjin and Raijin for help. The two gods then washed the two Yōkai with rains and winds, but Nezumi-Otoko pleaded to the gods to save the lives of his friends, and so the gods ceased their actions.
He also appears in the movie GeGeGe no Kitarō: Obake Nighter.
2007 Anime
He appears in episode 25 of the 2007 anime, The Great Yōkai Sports Festival.
Powers and Abilities
Divine Wind:
Wind Manipulation:
Equipment
Bag of Wind (風神袋 Fūjin-Bukuro, lit. Bag of Fūjin): Fūjin carries around a bag containing wind.
Ridable Cloud
Legend
References