We're Getting Mutants in the MCU - The Loop
Play Sound
Gangi-Kozō (がんぎ小僧, roughly "Jagged Boy" or "Chompers Boy") is a species of aquatic yōkai similar to the Kappa. He's often depicted as a single yōkai, though groups of them have been shown. He serves as an ally of Kitarō and his friends in various different adaptations.
Appearance
Gangi-Kozō's appear as short, humanoid beings covered in fur, except for their chests. They have a faint amount of stubble around their mouths. They have webbed hands and feet, pointy teeth, and medium-length black hair, stylized similar to Kitarō's. Their bangs are parted just above their bright, yellow eyes. The Gangi-Kozō bears a striking resemblance to Sara-Kozō, though the two of them aren't related.
In the 1996 anime, Gangi-Kozō wore a striped-mantle, patterned in blue and light blue thick stripes. His fur is colored brown. In the 2007 anime, he wore a red headband during the yōkai sports festival, and has chartreuse fur.
Personality
Within the 2018 anime, Gangi-Kozō is shown to be rather friendly, enjoying time together with the other yōkai tenants of the Sokai Lively Apartment by drinking sake together.
History
1985 Anime
1996 Anime
2007 Anime
Gangi-Kozō appears in Series 5 Episode 25 as a participant of The Great Yōkai Sports Festival. He's a member of Akamata's team.[1]
2018 Anime
A Gangi-Kozō becomes one of the tenants of the Sōkai Apartment, where he's seen drinking sake with the other tenants.[2]
Many Gangi-Kozō appear in episode #28, The Great Yōkai War. They appear along with several other yōkai of the GeGeGe Forest to help Kitarō fight off the Western Yōkai. They carried rifles and shot at Wolfgang, having been told of his weakness beforehand. However, this proved to be ineffective as Wolfgang reveals that under a full moon, he is invincible and slaughters them. Two more are seen witnessing the fight between Victor Frankenstein's beast and Nurikabe. After Backbeard's army retreats, at least one Gangi-Kozō is shown to have survived.[3]
A Gangi-Kozō is among the Yōkai who witnesses Agnès' return to the forest, joining in the pelting of threats and rocks at the young witch. They stop once Neko-Musume stands by Agnès and walks with her. Gangi-Kozō asks Amamehagi what they should do as the two girls are followed by the other Kitarō Family members. He soon joins the crowd of yōkai gathered around the GeGeGe House, trying to drive Agnès out of the forest. Medama-Oyaji tries to warn them that if they drive her out then the tragedy Malay Yōkai will repeat somewhere else. He listens to Kitarō as he explains how grave the consequences are if Japan becomes a part of Backbeard's empire, causing the crowd to look at one another. Until their attention is drawn to Kitarō as he stands on his resolve to fight.[4]
Powers and Abilities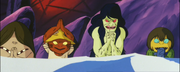 Powerful Bite: True to his name, Gangi-Kozō have an impressive jaw strength, where one of them is able to bite a chunk off from a rifle in the 1985 anime.
Tsunami:
Thundercloud and Rain:
Equipments
Stuff: In the 1996 anime, he is skilled in combat using his stuff.
Rifles: In the 2018 anime, a group of Gangi-Kozō are seen using scavenged rifles.
Legend
Gangi-Kozō are harmless, fish-eating water yōkai in relation to the well-known kappas. Gangi-Kozō occasionally encounter fishermen along the rivers they inhabit. When meeting one, the fishermen would often leave their largest, cheapest fish on the riverside as an offering.
References