The GeGeGe Forest (ゲゲゲの森 GeGeGe no Mori) is a forest in which many yōkai live, including Kitarō and Medama-Oyaji.
Its appearance, size, inhabitants, and other qualities can change depending on the adaptation. Inhabitants of the forest may change as well.
History
Saishinban
Gegege Forest is located within Aokigahara.
1968 Anime
1971 Anime
1985 Anime
1996 Anime
2007 Anime
2018 Anime
In the sixth anime adaptation, Yūta wanders into the GeGeGe Forest. Urged by Medama-Oyaji and Sunakake-Babaa, Kitarō showed Yūta around the forest. Locations within the forest include, but are not limited to: the Eternal Tree, Yōkai Hot Springs, Medama Chasm, Yashaga Waterfall and Odoroga Swamp.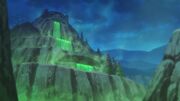 Yōkai Hot Springs: Kitarō points out the hot springs during Yūta's tour of the forest in episode four. The location is featured in episode 10, where Kitarō and Medama-Oyaji go to take a vacation.
Inhabitants
A list of characters that have inhabited or are currently inhabiting the GeGeGe Forest.
References