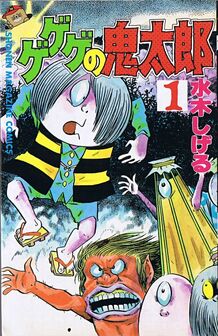 The work "Hakaba Kitarō" was published as a rental manga in 1960, but it was considered too scary for children. In 1965, renamed to "Hakaba no Kitarō", it appeared in Shōnen Magazine and ran through 1970. The series was renamed "Gegege no Kitarō" in 1967 and continued on Shōnen Sunday, Shōnen Action, Shukan Jitsuwa and many other magazines.
In 2002 "Gegege no Kitarō" was translated by Ralph F. McCarthy and compiled by Natsuhiko Kyogoku for Kodansha Bilingual Comics.
In 2013, "Kitaro," a compilation of classic Sixties manga episodes, was released by Drawn & Quarterly, with English translation by Jocelyne Allen and an introduction by Matt Alt.
Plot
Main article: List of GeGeGe no Kitarō manga chapters
Yōkai are specters who have lived in the human world since the dawn of time. They often rest peacefully in their dwelling places, until humans rouse them by inconsiderate actions. Kitarō is a young yōkai boy who wants to help humans and yōkai live in harmony, and he fights to protect humans from the enraged yōkai who lash out at them.
Series
Serialized releases
Stand-alone releases
Collections
46 Volumes (The Complete Kitarō Collection, 2000)
17 Volumes (Complete, by Kodansha in 1961)
1 Volume (Reprint, by Kodama Press in 1966)
9 Volumes (Reprint, by Kodansha in 1967)
6 Volumes (Reprint, by Mushi Pro in 1972)
12 Volumes (Reprint, by Asahi Sonorama in 1975)
8 Volumes (Wide-ban, by Asahi Sonorama in 1985?)
4 Volumes (Saishinban, by Kodansha in 1986)
5 Volumes (Aizouban, by Chuokoron Shinsha in 1988)
7 Volumes (Bunkoban, by Chikuma Shobo in 1994)
9 Volumes (Kanzen Fukkokuban, by Kodansha in 1996)
6 Volumes (Bunkoban, by Kadokawa Shoten in 2006)
9 Volumes (Bunkoban, by Chuokoron Shinsha in 2007)
5 Volumes (Bunkoban, by Kodansha in 2007)
English language
3 Volumes (Bilingual, by Kodansha in 2002)
8 Volumes (English, by Drawn & Quarterly in 2013)
See also