Gokan-Ō (五官王) is a subordinate of Enma-Daiō and one of 13 Kings of Jigoku in the 2007 anime.
Appearance
Personality
History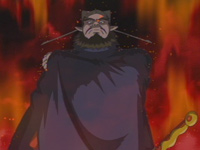 Episode 27: He appears along with Jami in episode #27 of the fifth anime adaptation, The Law of Jigoku! Run, Nezumi Otoko.

Episode 88: He makes another appearance in Yōkai Do-or-Die Spirit!! Hell Traversing Quiz!!.
Abilities
With Sō-Daiō, the two king can support entire Jigoku in an absence of Enma-Daiō.
Sword Skills
Energy Shield
Lightning Transportation
References
Community content is available under
CC-BY-SA
unless otherwise noted.