Jurassic World: Dominion Dominates Fandom Wikis - The Loop
Play Sound
THIS ARTICLE IS UNDER CONSTRUCTION.
It will be finished as soon as possible. We're working as fast as we can, sheesh!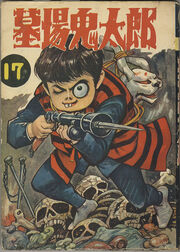 After Shigeru Mizuki was fired by Togetsu-Shobō from Hakaba Kitarō, the series continued with story and art by Kankō Takeuchi. The Takeuchi series ran from 1960 until Togetsu folded in 1962.
For the first six books (Vol. 4~9), the story was written by Masami Itō, the original author of the Hakaba Kitarō kamishibai. Starting with the seventh book (Vol. 10), Takeuchi took over as both artist and writer.
About
This series largely affected Mizuki's series. Takeuchi's version originally created the basis of the series to involve battles and depicts Kitarō as a hero, and Takeuchi introduced Enma-Daiō and Western Yōkai and Nine-Tailed Fox into the series.
It also contributed to the creation of Kappa no Sanpei.
Chapters
Volume 4: Kitarō and the Tree Neko-Musume
Volume 5: Kitarō and Kumo-Otoko
Volume 6: The Jigoku Express
Volume 7: The Tokyo Whirlwind Arc
Volume 8: Roar of the Beast Arc
Volume 9: The Yōko's Counterattack
Volume 10: The Ancient Hell Castle
Volume 11: The Terrible Demon Castle
Volume 12: The Horrible Bottomless Swamp
Volume 13: (Untitled)
Volume 14: Beast Village
Volume 15: Dance of the Oni
Volume 16: Freezing Hell
Volume 17: The Headless Demon
Volume 18: The Great Terror of Tokyo
Volume 19: The Oni-Baba's Counterattack
References