Jurassic World: Dominion Dominates Fandom Wikis - The Loop
Play Sound
THIS ARTICLE IS UNDER CONSTRUCTION.
It will be finished as soon as possible. We're working as fast as we can, sheesh!
The Hi Clan (ヒ一族, Hi-ichizoku) is a family of assassins or a clan of yōkai-hunters that are actually transformed leeches. They are described to be not yōkai but are natural enemies of them. Hence even notorious yōkai are afraid of the clan or to avoid conflicts with the clan.
In 1996 anime, it was a snake yōkai clan who once tried to conquer the world of yōkai but failed and went almost extinct.
Overview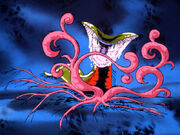 The method to manifest Hi clan with Kin-Sanchū (金蚕虫, lit, gold silkworm insect) has been known to Chinese yōkai from 6,000 years ago. It is; to put various poisonous insects and make them to devour each other within a can on the day of Tango no Sekku and leave it for a year, then re-open the seal and gets out the last surviving insect and feed it with a spirit plant called Adada (安駝駝) from Yunnan Province of China, and make a liquid which is a mixture of water and feces of the insect, then keep leeches within the liquid.
Hi clan has a nature to respect the feeder as their god hence called Shina-Yasha as "Yasha-gami sama" (夜叉神さま, lit. lord yasha god).
Members
Hi Family
The Hi Family appear in the Shinpen GeGeGe no Kitarō story Yōkai Crisis and episode #91 of the third anime, Yōkai Hunting Hi Clan! (an adaptation of the Shinpen story).
Father
Voiced by: Kōzō Shioya
Sayuri
Voiced by: Chiyoko Kawashima
Her name is given in the manga.
Daughter
Voiced by: Mayumi Shō
Hi Clan Miko
The Hi Clan Miko appears in episode #114 of the fourth anime, Desperate Situation! Shinigami's Trap.
Voiced by: Masako Katsuki
Powers and Abilities
Anti-Yōkai Powers
Doll Transmutation
Transformations
References