Hitotsume-Kozō (一つ目小僧 Hitotsume-Kozō, lit. One-Eyed Boy) is a one-eyed yōkai. In the manga chapter Binbō-Gekigaka, a painting of Hitotsume-Kozō with a painting of Yama-Jijii materialized when they were drew with a special pen which has been treasured by Kitarō and Medama-Oyaji's ancestors and they inherited.
Appearance
Personality
History
1985 Anime
Hitotsume-Kozō briefly appeared in the film GeGeGe no Kitarō: Gekitotsu!! Ijigen Yōkai no Dai-Hanran as a mob, but was immediately knocked out by Nezumi-Otoko.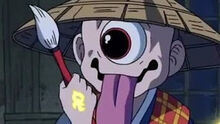 He appears in episode #91 of the fifth anime adaptation, Yōkai Teacher of Brush Writing! Hitotsume-Kozō.[1]
He also appears in GeGeGe no Kitarō: Nippon Bakuretsu!! He is one of the chosen 47 Yōkai Warriors and represents Tokyo. His mark is located on the back of his right hand.[2] Due to the fifth anime adaptation's sudden cancellation at 100 episodes, he is among the 23 Yōkai Warriors whose marks were not revealed aside from the movie.
2018 Anime
He is killed by Momon-Jii disguised as Kitarō, as a basis to put Kitarō on trial.[3]
Powers and Abilities
Target and Elemental Realization
Legend
Hitotsume-Kozō was likely created in Edo period based on legends of Tofu-Kozō and Kappa.
References