Hone-Onna (骨女, bone-woman) is a yōkai and recurring antagonist. She is usually a minion for Akashita, Ōkubi and Mai-Kubi. Hone-Onna also has an infatuation for Nezumi-Otoko.
Appearance
Hone-Onna resembles a human skeleton. In most adaptations, she is almost always seen wearing a traditional Japanese kimono and obi belt, with her hair tied up into a bun. Depending on the adaptation, her kimono may have intricate patterns, with long sleeves typically worn by single women or brides. Other adaptations give her kimono a simpler design, removing the patterns and making the dress one solid color. The fifth anime adaptation gave her pink, skull shaped earrings, and orange highlights in her hair, along with a bone-shaped hair accessory.
In the fourth anime adaptation, she can be seen wearing an orange headband, along with a large beaded necklace. She wears a short, white dress with blue accents, and an orange skirt beneath, all of which is tied together with a belt of the same color. In her human disguise, she resembles an attractive young woman with dark brown eyes, and long hair that goes down to her back. Her outfit stays the same between her human disguise and her appearance as a skeleton.
Personality
History
Manga
Sometime in the year 1683, Hone-Onna fell under Tarōbō's psychic powers and followed his command. She disguised herself as a pretty young woman at Yoshiwara. During the night that Nezumi-Otoko had a win in gambling and decided to go there, she was picked by Shitanaga-Babaa to be with him, spending the night together. After Nezumi-Otoko lights a paper lantern, Hone-Onna reveals herself and tells him that any man who sleeps with her will do exactly what she instructs them to do.
She orders Nezumi-Otoko to collect souls at Kozukappara. Afterwards she has Gasha-Dokuro eat the malice filled souls, growing to be more ferocious, as commanded by Tarōbō. Several days later, she finds Nezumi-Otoko with Kitarō and Neko-Musume at Kozukappara, the former asking what she is planning. She replies that she is doing what Tarōbō instructed her to do and keeps her master's information a secret. Kitarō quick dispatches her, knocking her head off her body. However, she manages to order Gasha-Dokuro to demolish the city of Edo.[1]
Hone-Onna in this anime adaptation was once a woman from the Jōmon period.
She appears in episode #41 of the fifth anime adaptation, Overthrow Kitarō! Nezumi-Otoko's Great Counterattack.
Powers and Abilities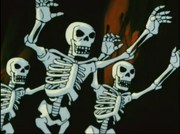 Skeleton control
Skeleton body
Transformation
Bone Darts
Bone Sword
Body Reconstruction
Legend
The Hone-Onna of legend lures men to a spot of her choosing and starts seducing them. After that, she starts sucking their life force dry to the point where there is nothing but a skeleton - then a pile of dust.
Trivia
In the 1996 anime version, Hone-Onna took on human form as a disguise.
References