THIS ARTICLE IS UNDER CONSTRUCTION.
It will be finished as soon as possible. We're working as fast as we can, sheesh!
Jigoku-Dōji (地獄童子 Jigoku-Dōji. meaning Jigoku Boy) is a Hanyō who works for Enma-Daiō as a bodyguard. He was created by Tatsuya Morino for the Mizuki Pro manga Saishinban GeGeGe no Kitarō and later appeared in the anime GeGeGe no Kitarō: Jigoku Arc.
Appearance
Personality
History
Jigoku-Dōji lives in Jigoku and acts as a servant and bodyguard to Enma-Daiō.
He has a girlfriend named Yūko, a dead human girl.
In Saishinban GeGeGe no Kitarō, he was speculated as a half-human descendant of the Ghost Tribe. However, the canonicity of his connection to the Ghost Tribe is unknown.
Powers and Abilities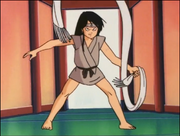 Object Stiffness Manipulation: Jigoku-Dōji has the ability to change the stiffness of objects such as ropes and pieces of cloth with his Yōkai Energy and use them as whips, ropes, shields, swords. He can freely control it in a manner similar to an extra limb, where he can block multiple attacks such as Kitarō's hair needles at once, and grab distant targets.
Object Size And Weight Manipulation:
Levitation:
References
Community content is available under
CC-BY-SA
unless otherwise noted.