Kai (カイ Kai) is a human-like yōkai that appears in the 2007 anime. He is Miu's little brother.
Appearance
Personality
History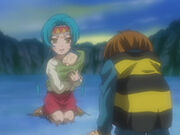 He appears along with his sister in episode #32 of the fifth anime adaptation, Landing! The Threat of Western Yōkai.
Abilities
Underwater Breathing: As a member of Amami Tribe, Kai has gills on his neck and this makes him able to breath normally above and under water.
Swimming Capability: Even being severely wounded, Kai managed to swim across the sea in a dolphin kick manner.
Trivia
Etymology of both Kai and Miu are likely from "Ocean" in Japanese;as the kanji 海 can be read as "Kai" or "Umi".
References
Community content is available under
CC-BY-SA
unless otherwise noted.