Obi-Wan Finale - The Loop
Play Sound
Karura (迦楼羅 Karura, Garuda) is a god from the anime and manga series "GeGeGe no Kitarō."
Appearance
Personality
In most adaptations, he has a wise and protective-like nature to those that pray for him.
In the fourth anime, he warned humanity's arrogance.
History
Karura is an Indian god that sealed away the Yōkai Gyūki in Japan centuries ago. His appearances in the series are as the arch-nemesis of the Gyūki and sometimes the Mikoshi-Nyūdō. He is one of the 28 guardians of the 1000-armed Kannon.
Manga
Gyūki appears in episode #15 of the second anime, Gyūki.[1]
He appears in episode #42 of the third anime adaptation, Yōkai Gyūki.[2]
He appears in episode six of the fourth anime adaptation, Runaway! Kitarō-Gyūki. [3]
GeGeGe no Kitarō: Yōkai Sen-Monogatari
He appears in episode #14 of the fifth anime adaptation, Kitaro Dies?! Gyūki Reborn.[4]
He appears in episode #22 of the sixth anime adaptation, Berserk!! The Terrifying Yōkai Gyūki.[5]
Powers and Abilities
Flight: By using the pair of feathery wings on his back, Karura is able to fly, seemingly without the need to constantly flap them.[5]
Expert Flutist: Karura is able to play an alluring tune on his flute, capable of attracting the attention of the Gyūki and making it follow him.[5]
Vanishing: After sealing the Gyūki back in Gyūki Rock and warning the humans to never open it again, he vanishes from sight and presumably goes back to his shrine.[5]
Talisman:
Legend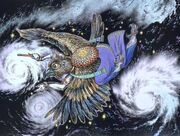 Karura is a modified incarnation of Garuda in Hinduism and Buddhism.
Trivia
In GeGeGe no Kitarō Yōkai Yōchō, Garuda appeared instead of Karura.
References