Jurassic World: Dominion Dominates Fandom Wikis - The Loop
Play Sound
Kitsune (狐 Kitsune, lit. Fox), also known as Yōko (妖狐 Yōko, lit. Yōkai Fox) are yōkai foxes.
They have other names such as Bake-Gitsune (化け狐 Bake-Gitsune, lit. Monster Fox) or Henge-Gitsune (変化狐, lit Transforming Fox) or Yōkai-Gitsune (妖怪狐 Yōkai-Gitsune).
Description
Kitsune in as just simple foxes without any supernatural powers.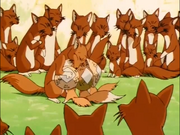 Hakusanbō's Yōko appeared in the form of humans with long silver hair, either straight or fuzzy, with two locks hanging in front of them. Their faces are covered with white fox masks that are tied around with string. They wear pale green yukatas with blue obi tied around their waists and sandals.[1]
Behavior
Classes & Ranks
Kitsune comes in mainly two classifications; the benevolent Zenko and the mischievous Yako.
Other Types
Kyūbi-no-Kitsune (九尾の狐 Kyūbi-no-Kitsune, lit. Nine-Tailed Foxes) is a higher form that Kitsune take upon gaining nine-tails, regardless of the class above. They become very powerful, some matching the level of gods.
History
Powers and Abilities
Throughout the series, they have used various magical or supernatural abilities.
Shapeshifting: The general ability of the kitsune is the ability to shapeshift, similar to that of the Tanuki. Yako yet cannot perform transformations.
Fire Manipulation: Kitsune are able to manipulate fire to create strange lights in the sky or for offensive means.
Teleportation: Kitsune can appear and disappear at will, some appearing in the form of a fireball before revealing themself.[1]
List of yōkai foxes
Other Media
Legend
Trivia
Mizuki's illustration was based on The Third Kikugoō Ogami: Kyūgorō the White-Faced by Kuniyoshi Utagawa.
References
↑

GeGeGe no Kitarō: Yōkai Sen Monogatari