Obi-Wan Finale - The Loop
Play Sound
Kuro-Karasu (黒鴉 Kuro-Karasu, lit. Black Crow) is a Karasu-Tengu and a squad leader of the Tengu Police who appears in the 2007 anime. He is the adopted son of the Dai-Tengu Sekiranbō and the biological son of Koku'unbō.
Appearance
His appearance is that of a regular Karasu-Tengu but has a different vest and has black-winged shoes.
Personality
History
2007 Anime
He first appears in episode #36 of the fifth anime adaptation, Medama-Oyaji's Rescue. He's the 25th of the chosen 47 Yōkai Warriors and the representative of Gunma. His mark is located on his upper right arm, which is also his birthmark.
Powers and Abilities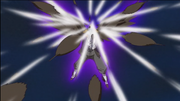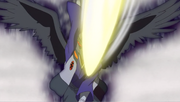 Tengu-Bi: When he explained about Taimatsumaru to Kitarō, he produced a small flame and showed it to Kitarō.
Feather Shuriken (羽根手裏剣 Hane-Shuriken):
Energy Cutter
Feather Transformation: Kuro-Karasu can turn his feather into an energy lance.
Disappearing
Equipment
Fan
Legend
References