Mai-Kubi (舞首 dancing heads) is a Yōkai or vengeful spirits of men with three heads that are joined together as one. They are said to be spirits of men that are bound together.
These heads are individually known Kaze-Kubi (風首 lit. Wind Head), Hi-Kubi (火首 lit. Fire Head) and Kaminari-Kubi (雷首 lit. Thunder Head).
Appearance
Personality
Unless they are controlled, the heads of the Mai-Kubi do not get along and will fight among each other.
History
2007 Anime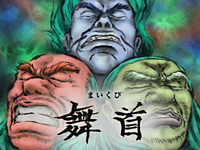 It appears along with Hone-Onna in episode #41 of the fifth anime adaptation, Overthrow Kitarō! Nezumi-Otoko's Great Counterattack.
Abilities
Legend
References
Community content is available under
CC-BY-SA
unless otherwise noted.