Mikari-Baba (みかり婆 Mikari-Baba) is a yōkai.[1]
Appearance
Mikari-Babaa is an old woman with an oval-shaped head, her skin is completely black with the exception of her pale white hands. Her face comprises of a small nose, a pair of small eyes that have white sclerae with red irises and black pupils, her mouth is in a wide grin, where it lacks any visible teeth and is completely red. She wears a straw hat that resembles a mino, a yellow kimono with a pattern of green circles with white rings around each, she carries around a brown walking cane and a straw ball that has an orange band and white nozzle.[1]
Personality
History
Fifth Anime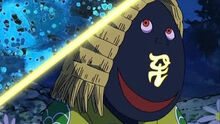 She is one of the chosen 47 Yōkai Warriors and represents Kanagawa Prefecture. She appears in GeGeGe no Kitarō: Nippon Bakuretsu!! Due to the fifth anime adaptation's sudden cancellation at 100 episodes, she is among the 23 Yōkai Warriors that were not revealed aside from the movie.[1]
Abilities
Legend
References
Community content is available under
CC-BY-SA
unless otherwise noted.