Mokumokuren (目目連 Mokumokuren, lit. Many-Eyed Muraji) is an eye Yokai and a recurring antagonist.
Appearance
In general, Mokumokuren takes the form of a swarm of disembodied eyes, most pairs feature various expressions, such as sadness, worry, fear, and anger.
Within the 1971 anime, Mokumokuren's eyes have yellow sclerae and tiny pupils. Each pair of eyes has a solemn expression.
In the 1985 anime, Mokumokuren has white sclerae and small pupils in their eyes. They are normally in an angry expression, but can
Within the 1996 anime, Mokumokuren's eyes have white sclerae, black pupils, and thin eyebrows just above. Each pair has a different expression, ranging from anger, worry, and neutral, though they can change depending on his mood.
In the 2007 anime, Mokumokuren has white sclerae, somewhat thin pupils, and a faint glow around their eyes. The common expressions are anger, annoyance, and worry, but can change upon his mood.[1]
Personality
History
1971 Anime
1985 Anime
1996 Anime
2007 Anime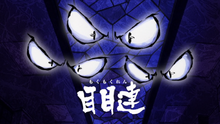 Mokumokuren appeared in the episode #18 of the fifth anime adaptation, Black Eyes that Glow in the Old Castle.[1]
Powers and Abilities
Legend
In Japanese Mythology, Mokumokuren are a type of tsukumogami, they are spirits that live in torn shōji (Japanese paper sliding walls). If the shōji has many holes, eyes can sometimes be seen on it, which, if looked at long enough, can make people blind. The only way to remove the spirit from the wall is to patch up the holes in it. Mokumokuren is said to be an invention of Toriyama Sekien.
References