THIS ARTICLE IS UNDER CONSTRUCTION.
It will be finished as soon as possible. We're working as fast as we can, sheesh!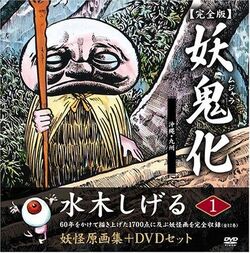 Mujara (妖鬼化, roughly translates to Yōkai-ization) is a series of Yōkai guidebooks by Shigeru Mizuki released by Softgarage. It was also released with accompanying DVD, audio books and in ebook form.
About
Series
Mujara
Special Edition came with an audio book featuring the voices of the 4th anime adaptation cast: Yōko Matsuoka as Kitarō, Isamu Tanonaka as Medama-Oyaji and Shigeru Chiba as Nezumi-Otoko.
Volume 1: Japan Edition (Hokkaido, Tohoko and Kanto)
Volume 2: Japan Edition (Chubu)
Volume 3: Japan Edition (Kinki and Chugoku)
Volume 4: Japan Edition (Shikoku, Kyushu and Okinawa)
Volume 5: World Edition (Asia, Oceania, Africa and America)
Volume 6: World Edition (Europe)
Volume 7: World Edition (Eastern Europe, Northern Europe and China) / Akuma Edition
Volume 8: Other World Edition / Special Edition
Mujara Popular Edition
Volume 1: Kanto, Hokkaido and Okinawa Edition
Volume 2: Chubu Edition
Volume 3: Kinki Edition
Volume 4: Chugoku and Shikoku Edition
Volume 5: Tohoko and Kyushu Edition
Volume 6: World and Special Edition
Mujara Complete Edition
Volume 1: Okinawa and Kyushu
Volume 2: Shikoku and Chugoku I
Volume 3: Chugoku II and Kinki I
Volume 4: Kinki II and Chubu I
Volume 5: Chubu II and Kanto I
Volume 6: Kanto II, Tohoko and Hokkaido
Volume 7: Entire Country and Special Edition
Volume 8: Europe I
Volume 9: Europe II, Eastern Europe, Northern Europe and Africa I
Volume 10: Africa II, Oceania and China I
Volume 11: China II and Asia I
Volume 12: Asia II, America and others
Mujara ebooks
References
Community content is available under
CC-BY-SA
unless otherwise noted.