Obi-Wan Finale - The Loop
Play Sound
Namahage (なまはげ Namahage) is a yōkai.
Appearance
Namahage is a yōkai with a red oni face, long wavy gray hair, sharp teeth, big eyes with yellow sclerae, and blue irises. He wears a mino that covers most of his body, his arms and legs have tan skin and he wears straw boots.
Personality
History
Namahage was originally a separate story from Gegege no Kitaro series, but was later adapted into.
1968 Anime
Daisuke Higashi, an intelligent but not polite young man, became a Namahage after wearing a mask of Namahage kept at a shrine and played a prank, but accidentally killed an old man called Rokubei by shocking him. However, the Rokubei thought to be dead was actually the real Namahage in disguise aside from the real Rokubei.
1985 Anime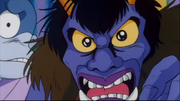 Namahage briefly appeared in the film GeGeGe no Kitarō: Gekitotsu!! Ijigen Yōkai no Dai-Hanran as a mob, but was immediately knocked out by Nezumi-Otoko.
2007 Anime
He is the 13th of the chosen 47 Yōkai Warriors of Japan and the representative of Akita.
Powers and Abilities
Transformation
Namahage Transmutation
Legend
References