Jurassic World: Dominion Dominates Fandom Wikis - The Loop
Play Sound
Noderabō (野寺坊 Noderabō, lit. Field Temple Priest) is a yōkai.
Appearance
In the 2007 anime, Noderabō is a yōkai with pale cyan skin, tufts of hair across his body and an oddly taller head that is very wrinkly by the top. He has thin red eyes with tiny black pupils and black lines underneath. His hands are scaly while his feet resemble that of a bird's with three toes on each and has a darker tone than the rest of his body, both sets end with sharp claws. He wears a loose, dark gray ragged kimono with a black-and-yellow striped obi.[1]
Personality
Noderabō loves animals, nature, and innocent children, and respects their happiness, in turn animals greatly respect him.[1]
While he is able to control sounds and make animals to speak human languages, he does not speak properly.[1]
History
2007 Anime
Noderabō appears in episode #84 of the fifth anime adaptation, Noderabō! The Bell Which Echoes in the Darkness of Night.[1]
Powers and Abilities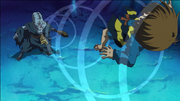 Sonic Scream: Noderabō is able to produce extremely powerful scream to attack his opponent.[1]
Hypnosis
Human Speech Bestowal: Noderabō is able to give animals the ability to speak the human language.[1]
Legend
References