Jurassic World: Dominion Dominates Fandom Wikis - The Loop
Play Sound
Obake-Hamaguri (お化け蛤 Obake-Hamaguri, lit. Monster Clam)[1] is a giant clam Yōkai and have appeared throughout the series both as antagonist.
Appearance
There have been different types of Obake-Hamaguri seen. One as a honeycomb-like being with eyes. One is a monster clam with eyes, mouth with fangs, and tongue.
Personality
History
Shonen Magazine / First Anime
He appears in episode #58 of the first anime adaptation, Oboro-Guruma.
1985 Anime
He appears in the fourth movie based on the third anime adaptation, GeGeGe no Kitarō: Gekitotsu!! Ijigen Yōkai no Dai-Hanran.[1]
1996 Anime
Yagyō-san's Clam Boat used the a live Obake-Hamaguri.
Powers and Abilities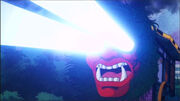 Illusion
Transformation: In the first and third anime, it transformed into Oboro-Guruma and disguised Kitarō.
Eye Beams: Oboro-Guruma is capable of projecting glowing white beams from his eyes.[1]
Legend
References