Jurassic World: Dominion Dominates Fandom Wikis - The Loop
Play Sound
Penangalan (ペナンガラン Penangaran) is a vampire yōkai.
Appearance
In the first anime, Penangalan appears as a serpent-like being, with a prominent snout with sharp fangs and a pair of eyes with visible pupils. Its body is rotund with numerous hair strands all over, along with its tail.[1]
Within the fourth anime, Penangalan retains their appearance, now having green skin, its snout is still prominent, having smaller fangs now and its eyes have red sclerae with small black pupils. Its neck appears to be longer and its body is slightly larger, still retaining the numerous hair strands across it and its tail.[2]
Personality
History
Manga/1968 Anime
Penangalan appears in episode #52 of the first anime adaptation, The Vampire Yōkai Gang.[1]
1985 Anime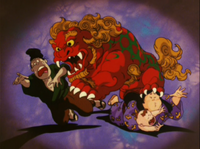 When it possessed a Shishi-Gashira (獅子頭, lit. Lion Head) and caused a havoc in Edo period, it was believed to be a lion-yōkai called Kagami-Jishi (鏡獅子, lit. Mirror Lion) which was originally a live lion brought from oversea, but was slain due to its violent temper, and the spirit of the lion possessed the lion head. Penangalan appears in episode #96 of the third anime adaptation, Blood Battle!! The Yōkai Vampire Corps.[3]
1996 Anime
Penangalan appears in episode #104 of the fourth anime adaptation, The Dreaded Vampire Yōkai Island!.[2]
2018 Anime
Penanggalan is mentioned by Agnès along with Asanbosam as unlikely candidates of causing the recent vampiric incidents.[4]
Powers and Abilities
Levitation: Penanggalan are able to float above the ground with ease and are also capable able of flying.
Possession: A Penanggalan demonstrated its ability to possess humans or objects while it was within the Shishi-Gashira. While within the mask, it is also able to possess humans who wear it.
Shishi-Gashira Transmutation: Shishi-Gashira Penanggalan is able to generate light from the mask's eyes, anyone who is touched by this light is into a shishi-gashira.
Fire Breath: Shishi-Gashira Penanggalan is capable of breathing fire while possessing the Shishi-Gashira.
Psychokinesis
Hypnosis: Shishi-Gashira Penanggalan is able to hypnotize its targets by emitting light from the Shishi-Gashira's eyes, making its victims attack themselves.
Burrowing
Legend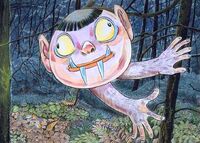 The Penanggalan is a type of vampire written and spoken of in Malayan folklore. "Penanggalan" literally means "detach" or "remove". According to folklore, the Penanggalan is a detached female head capable of flying about on its own, while it flies, the stomach and entrails dangle below it, having a glow around them. They crave fresh blood, flying around at night to look for victims, preying on people while they sleep, and have a liking to the blood of newborns. They return to their bodies at dawn, shrinking their organs by soaking in vinegar, enabling them to fit into their body and pose as humans.
The design for the Penanggalan that resembles a snake or "floating stomach", may be based on an illustration of a spirit called the Polong.[5]
References