Qi (チー Chī) is a Chinese Yōkai and antagonist of Kitarō. His true form is that of a Nine-Tailed Fox.
Appearance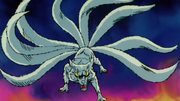 Personality
History
Chi the leader of all Chinese Yaoguai. He is a Jiuweihu and the brother of Tamamo-no-Mae.
In manga, Kitarō and others defeated Tamamo-no-Mae in the GeGeGe no Kitarō Challenge Series story Secret of Ancient Times.
Manga
He first appeared in the Shonen Magazine story Yōkai Cloth.[1]
1971 Anime
Qi appeared in episode #2 of the second anime adaptation, Yōkai Cloth.
1985 Anime
Qi appeared in the third anime adaptation's third movie, GeGeGe no Kitarō: Saikyō Yōkai Gundan! Nippon Jōriku!!.[2]
1996 Anime
Qi appeared in episode #79 and 80 of the fourth anime adaptation, The Chinese Yōkai Invasion! (Part 1) and The Chinese Yōkai Invasion! (Part 2).
2007 Anime
Qi appeared in episode #63 of the fifth anime adaptation, Japanese Yōkai Annihilated!? Fabric Yōkai!!.[3] He makes another appearance in episode 76, Strongest Tag Battle!! Southern & Chinese Yōkai!![4]
Powers and Abilities
Cloth Magic (反物魔法 Tanmono Mahō): Qi is able to transform Yōkai into rolls of cloth, primarily through using pills. By using these Yōkai-turned-cloth, he is able to make clothes that when worn make the victim fall under his mind control.[1] He is also capable of using his breath,[2] or sticks to transform his target.[4] He can also make clothes for himself, where he is able to gain the powers of the Yōkai the cloth was made from.[3]
Paper Magic: Qi is able to utilize many paper-based techniques including summoning [Kami-no-Sei]] by drawing on paper, they take on the form of whatever he draws, ranging from Japanese Yōkai to generic monsters. One prominent example is a giant Chinese dragon, called Yōjin.
Fire Manipulation: Like other Kitsune, Qi is able to produce supernatural fire for varying needs, such as for offense or for decoration.
Transformation
Lightning
Flight
Poisonous Gas
Teleportation:
Illusion
Hypnosis
Camouflage
Body Extending
Yōkai Energy
Item Summoning
Fighting Skills
Equipment
Cloth
Paper: Qi uses the paper to draw the creatures, so his Kami-no-Sei will take the form of the drawing.
Cloth-making stick
Yōkai Castle
Powder
Pills
Ship
Flying Carpet
Trivia
Qi's appearance in the second opening of the 2007 anime slightly differs in his facial features from his appearance in the anime itself and closely resembles his past designs.
Legend
References