THIS ARTICLE IS UNDER CONSTRUCTION.
It will be finished as soon as possible. We're working as fast as we can, sheesh!
Sanshō (山魈 Sanshō, lit. Mountain Demon) is a Chinese yōkai who works for Qi.
In the GeGeGe no Kitarō: Kiki Ippatsu! Yōkai Rettō game, he is named Chinese Yasha (中国夜叉 Chūgoku-Yasha).
Appearance
His appearance in GeGeGe no Kitarō: Saikyō Yōkai Gundan! Nippon Jōriku!! was based on Mizuki's illustration of Sanshō but with two legs, iron-like mask like face, less-hairs, and armors and weapons. In the original illustration, Sanshō was depicted as one-legged, hairly being.
Personality
History
Manga
1971 Anime
1985 Anime
Sanshō appeared in the third movie based on the third anime adaptation, GeGeGe no Kitarō: Saikyō Yōkai Gundan! Nippon Jōriku!!
1996 Anime
Powers and Abilities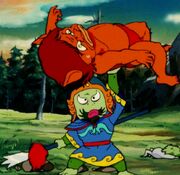 Immense Durability: In the 1985 anime, Sanshō has shown to be rather durable, being completely unfazed when he is struck with a decent-sized rock from behind, only pondering if something had hit him and only feeling tickled when Neko-Musume scratches his face. Notably sparks akin to hitting metal flew off from his face during the cat Yōkai's assault, even breaking her nails.
Expert Spearmanship: In 1985 and 1996 anime, he is shown to possess advance spearplay, enough for him to hold their own against a number of Japanese yōkai alone.
Enhanced Strength: Despite his small size, Sanshō is able to carry the much larger Ama-no-Jaku with ease, spinning him around without much effort.
Equipment
Spear: He wields a spear that bears a resemblance to the sasumata, but with a blade that ends in three points with the outer two curving outward. In the 1985 anime, it has a gray pole with a pointy tip and a tuft of red tassel attached just below the blade. In the 1996 anime, it has a yellow band below the blade and has an orange pole for the base.
Legend
Sanshō is a Chinese name of Mandrill or a large, single-legged ape like yōkai or giant in Chinese mythology or folklore who keeps a mountain as a territory.
References