Sara-Kazoe (皿数え, Sara-Kazoe, "plate counting") is a female Yōkai or a ghost who is in a relationship with Ōnyūdō in the 1985 anime.[1]
Appearance
Personality
History
Manga
Sara-Kazoe appears in the chapter Plate Battle.
1985 Anime
Abilities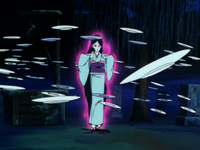 Plate Manipulation: Sara-Kazoe is able to control plates, making them float in the air and use them to attack her targets. She and the plates gain a pink aura while she attacks her targets. Her range is quite wide, being able to gather a city's worth of plates from her location.[1]
Plate Transformation: Sara-Kazoe is able to turn her lower half into a stack of plates.[1]
Plate Transfiguration: She is also able to turn others into plates as well, each having a pattern or coloration that matches them.[1]
Legend
Sara-Kazoe was recorded in Konjaku Gazu Zoku Hyakki as a horror and tragic tale of a young woman. This was likely based on more famous Banchō Sarayashiki, featuring haunting spirit of Okiku or Okiku-Mushi.
References
Community content is available under
CC-BY-SA
unless otherwise noted.