Sazae-Oni (さざえ鬼 Sazae-Oni, lit. Turban Shell Demon) is a centuries old turban shell that turned into a water yokai resembling a large gastropod. He first appeared in the Shonen Magazine story Sazae-Oni.
Appearance
Personality
History
Shonen Magazine / First Anime
He appears in episode #33 of the 1st anime adaptation, Sazae-Oni.
1985 Anime
He appears in episode #14 of the 3rd anime adaptation, Immortality!? Yōkai Sazae-Oni.
1996 Anime
He appears in episode #17 of the fourth anime adaptation, Strange Sea! Yōkai Sazae-Oni.
It is unclear whether or not the heavily fortified hideout of Sazae-Oni under Tengu-Iwa was originally built by the mermaids or Sazae-Oni.
2007 Anime
He appears in episode #23 of the fifth anime adaptation, Epicure!? Sazae-Oni.
In the end, it was turned back to its original form and was released into the ocean.
2018 Anime
He appears in episode #90 of the sixth anime adaptation, Idol Legend Sazae-Oni.
Powers and Abilities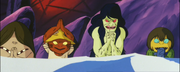 Regeneration
Hair
Extendable Arms
Mouth Enlarging
Shape Shifting
Transformation
Water Manipulation:
Thundercloud and Rain:
Legend
Sazae-Oni are a type of obake that are formed when Turban snails, especially the "Turbo cornutus", reach 30 years of age. Sazae-oni are also portrayed as a testicle-stealing temptresses. The most popular legend of the Sazae-oni is that a group of pirates rescued a drowning woman from the sea and took her back to the ship. They vied for her attention, but soon found that she was willing to have sex with all of them, cutting their testicles off afterwards. The men, obviously upset, threw her into the ocean, where she revealed her true form, and bartered with the captain for their testicles back. The Sazae-oni ended up leaving with a large amount of pirate gold. Testicles are sometimes called kin-tama or "golden balls" in Japanese, so the punchline goes that gold was bought with gold.
References