Shigeru Mizuki (水木 しげる, Mizuki Shigeru, born March 8, 1922 ~ died November 30, 2015[1]) was a Japanese manga artist and the creator of GeGeGe no Kitarō. He was a wounded veteran of World War II and a recipient of the Person of Cultural Merit award. A specialist in stories of yōkai, he is considered a master of the genre. To a lesser but still notable degree, he is also known for his World War II memoirs, as well as a writer and biographer.
Overview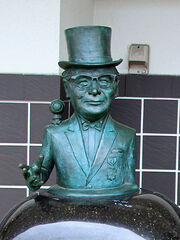 Mizuki was born in the Osaka and raised in the coastal town of Sakaiminato, Tottori., Mizuki was originally named Shigeru Mura (武良 茂Mura Shigeru), the second of three sons. Described as a drifting, curious child, his earliest pursuits included copious amounts of drawing and hearing yōkai stories from a local woman named Fusa Kageyama (aka NonNonBa).[1]
After graduating junior high school, he worked in Osaka while studying to become a painter. Upon reaching recruitment age, he passed his physical despite being near-sighted and was drafted into the reserve unit of the Imperial Japanese Army. In 1943 he was called up and sent to the Papua New Guinea front at Rabaul. His wartime experiences affected him greatly, as he contracted malaria, watched friends die from battle wounds and disease, and dealt with other horrors of war. Finally, in an Allied air raid, he was caught in an explosion and lost his left arm. While a prisoner of war on New Britain, he was befriended by the local Tolai tribes people, who offered him land, a home, and citizenship via marriage to one of the local women. Mizuki acknowledged he considered remaining behind, but was shamed by a military doctor into returning home to Japan first to face his parents, which he did reluctantly.[1]

Upon arriving home, he was soon living in poverty and gave up on becoming a painter. He found a job running an apartment building in Kobe called "Mizuki" before moving to Tokyo to find work as a kamishibai artist. In 1958, Mizuki released his debut rental manga, Rocketman. In 1960 he began intermittently releasing the series Hakaba Kitarō.
In 1961, he married Nunoe Iizuka through an arranged engagement. In 1963 he published the original Akuma-kun manga through Tōkōsha, and in 1964 he made his magazine debut with Garo. In 1965, his one-shot TV-kun won the Kodansha Children's Manga Award, and in that same year he remade his rental manga GeGeGe no Kitarō and Kappa no Sanpei for Shonen Magazine and Shonan Sunday respectively. From there, he gained popularity for his numerous yōkai stories. In 1966 Akuma-kun recieved a live-action TV series, while GeGeGe no Kitarō became a mega hit anime in 1968, spawning six remakes over the decades since. In 1993, the special Shigeru Mizuki Road shopping district was constructed in his childhood hometown of Sakaiminato, and in 2003 the Shigeru Mizuki Memorial Museum was added.
He has received high praise for his body of work as a manga artist and his contributions to the culture of yōkai, being awarded the Medal of Honor with Purple Ribbon in 1991 and the Order of the Rising Sun order in 2003. In 2007 he became the first Japanese person to win the award for Best Album (for NonNonBa) at France's Angoulême International Comics Festival. He has also recieved the Angoulême Prize for Inheritance and the Eisner Award for Best U.S. Edition of International Material (Asia) for his 1973 graphic novel Onward Towards Our Noble Deaths. As a yōkai researcher, he has served as chairman of the World Yōkai Association, a member of the Japanese Folklore Society, and a board member of the Ethnological Arts Research Society among others. He is an honorary citizen of both Choshu and Tokyo, and in 2010 was slected as a Person of Cultural Merit.
On November 30, 2015, Mizuki died of heart failure, he was 93.
Character & Style
Yōkai Researcher
In 1966, Mizuki released a collection of yōkai tales in "Strange, Strange, Strange Tales", published in Shonen Sunday. Before long, he published the "Japanese Yōkai Encyclopedia" in Shonen Magazine, and in 1970 he released "Shigeru Mizuki's Yōkai Picture Book" through Asahi Sonorama. Later, he also drew a number of yōkai picture books.
During his life, Mizuki amassed a large collection of ancient pieces of yōkai art and picture scrolls. As a result, many of his depictions of yōkai are based on classic art by the likes of Toriyama Seiken. Many yōkai who had only ever been spoken of or written about, such as Sunakake-Babaa, Konaki-Jijii, Ittan-Momen and Nurikabe, were drawn for the first time by Mizuki. Because of this, many of the yōkai designs from his various works have become the standard image associated with them to many Japanese people to this day.
He has also saved some yōkai from being lost to history, and because of this he has been regarded as a successor to yōkai folklore and a yōkai spokesman. In some instances where the source of the yōkai legend is unknown, such as with Jubokko, he is often believed to be the creator of the yōkai. There are also recent cases where paintings from before Mizuki's first depiction of a yōkai have been discovered. In August 2007, yōkai researcher Kōichi Yumoto discovered and Edo period painting of a "square dog-like yōkai" at the library of Brigham Young University which turned out to be Nurikabe.
In the 1980s he began publishing the "Shigeru Mizuki's Yōkai Guidebook" series of books, and in 1992 he released the "Yōkai Art Book: Color Edition" through Iwanami-Shinsho. Starting in 1998, he began to produce the "Mujara" series, which contained art for over 1600 yōkai.
As more and more yōkai enthusiasts flocked to Mizuki, he established the World Yōkai Association in 1995 and became it's first chairman. With notable members like Hiroshi Aramata, Natsuhiko Kyōgoku and Katsumi Tada, they also began to meet for the annual World Yōkai Conference. In 1997, the World Yōkai Association began publishing it's official magazine, "Kwai", through Kadokawa-Shoten. Mizuki would contribute new manga stories to the magazine.
With the enthusiasts mentioned above, as well as non-fiction writer Mitsunari Ōizumi, he began traveling to places all around the world to learn more about the spiritual culture and folklore of other countries and civilizations. To "feel the yōkai" of the world, he visited the Dogon people of Mali, the Senoi people of Malaysia, the Aborigine people of Australia, the indigenous people of Mexico, and the Hopi tribe of the United States among others. During these trips, he would often film festivals or record traditional music to enjoy later at his own home. He would also buy masks and other artifacts and souvenirs, most of which he displayed at his home or his museum.
According to Ōizumi's book "Shigeru Mizuki's Big Adventure", when they showed Mizuki's Japanese Yōkai Encyclopedia to the natives, they recognized the creatures in his drawings and excitedly pointed out each yōkai they knew. This lead Mizuki to the "1,000 Yōkai Theory", saying "I've found 1,000 types of yōkai in Japan. There's roughly the same amount of yōkai everywhere else in the world".
NonNonBa
NonNonBa was a woman named Fusa Kageyama who often worked at the Mura household when Mizuki was a child (or baby (ベビィ, bebii) as Mizuki would say). Her nickname came from NonNon-san (のんのんさん) a word for those who served the Buddha that was used in Tottori at the time. According to Mizuki's mother, she was the daughter of a poor samurai family from Matsue, her father being a ashigaru.
Fusa would gather children around and tell them stories about yōkai, obake and Jigoku. These stories of hers had a huge effect on Mizuki and would influence the manga stories he wrote years later. He would later say "It is no exaggeration to say that she influenced the course of my life".
Fusa died when Mizuki was in the 5th grade.
The essay and manga NonNonBa depicted his childhood adventures and relationship with Fusa. It was later adapted into a live-action TV series for NHK.
In the 2015 TV special Shigeru Mizuki at 93 Travel Log: The Yōkai of Izumo Province, Mizuki traveled with Hiroshi Aramata to Izumo, Shimane, the birthplace of Fusa, and visited her grave for the first time. Due to his death in November the same year, it was also his only visit to her grave.
War
Personality
Sakaiminato
Main article: Sakaiminato
Chōfu
For more than 50 years, Mizuki lived in a city called Chōfu located in Tokyo.
The street called Tenjin Douri Shoutengai near Chōfu train station holds the statues of Kitarō Family that are scattered around on the street.
From a bus stop near Chōfu train station, one can go to the second Kitarō Tea House (Kitaro Chaya, or 鬼太郎茶屋) by taking a bus straight to Jindaiji (深大寺), the last stop. The buses nicknamed "Kitaro Bus" are painted in the characters from Gegege no Kitaro. At Kitaro Tea House, there are varieties of food range from traditional Japanese sweets to a Konnyaku (Konjac) shaped like Nurikabe. There is also a small shopping section dedicated to manga and anime DVDs of the works of Mizuki, stationary, apparels and many more. On the second floor, there is a museum of Mizuki's artworks that changes the displays every month or so.
Timeline
1922

March 8 - Born the second son of Ryōichi and Kotoe Mura in Kohama, Nishinari, Osaka (modern day Sumiyoshi Ward, Osaka), soon after birth returns to father's hometown of Saihaku, Tottori (modern day Sakaiminato, Tottori).

1927 (age 5)

Becomes close to Fusa Kageyama (NonNonBa), a nanny who has been working for the Mura family since his grandfather's day. She becomes a huge influence on him

1929 (age 7)

Enters Sakai Elementary School a year behind his class.

1935 (age 13)

Graduates Sakai Elementary School. Skips junior high entrance exam to enroll in advanced elementary school.

1937 (age 15)

March - Graduates advanced elementary school. Moves to Osaka to work at a lithograph print shop but is fired after 2 months. Uncle gets him work at a printmaking company in Terada but is quickly fired again.

1938 (age 16)

Enrolls in art school to become a painter.

1939 (age 17)

Fails his entrance exam for Horticultural School. Finds work at a Matsushita Electrical factory but is fired after only 2 days. Later begins working as a newspaper delivery boy while living at the news dealer's shop.

1940 (age 18)

Passes entrance exam for Japanese Mining School but loses interest and drops out after half a year.

1941 (age 19)

Enrolls in Osaka Evening Middle School. Works a day job while going to school at night.

1943 (age 21)

Drafted into the Imperial Army, sent to Rabaul. Evening School classifies him as dropping out.

1944 (age 22)

Loses left arm in an air raid bombing. Recovers in a New Guinea hospital, befriends local Tolai people.

1945 (age 23)

Japan surrenders. Requests "local discharge" because of his friendship with the Tolai, but is persuaded against it.

1946 (age 24)
1948 (age 26)

Accepted into Musashino Art School but doesn't graduate. Works various jobs, including at a fish shop and as a rickshaw driver.

1950 (age 28)

Moves to Kobe and uses his funds to buy an old apartment building called "Mizuki Manor", works as landlord.

1951 (age 29)

While working as landlord, begins side job as kamishibai artists after introduced to the industry by a tenant.

1953 (age 31)

Landlord work slows, kamishibai becomes main source of income. Takes in older brother Sōhei, tried as a BC class war criminal, after his release from prison.

1957 (age 35)

Moves to Tokyo for work as kamishibai industry dies down, lives in a boarding house in Kameido. After two months, finishes rental manga debut work Rocketman on December 4.

1958 (age 36)

February - Rocketman published by Togetsu-Shobō. Switches to drawing manga full time.

1959 (age 37)

Purchases a house in Chofu.

1960 (age 38)

Because his sales in Shonen Senki are good, Togetsu-Shobō gives Mizuki editing duties on two new magazines, sci-fi magazine Uchū Shonen and horror magazine Yōki-den. For the former he writes Baby Z and for the latter he writes Ghost Family, featuring the birth of Kitarō, in it's first issue and Ghost Family: Hakaba Kitarō in the second issue.

1961 (age 39)

Begins publishing Kappa no Sanpei through Togetsu-Shobō.
Parents pressure him to marry since he is nearly 40 and still single. Marries Nunoe Iizuka through an arranged engagement.

1963 (age 41)
1964 (age 42)

Serialized magazine debut with Garo.

1965 (age 43)

Major publisher debut with Kodansha's Monthly Shonen Magazine. Has a difficult time adapting to going from adult oriented stories to children's manga.
Wins the Kodansha Children's Manga Award.

1966 (age 44)

Finally finds success as a shonen manga artist. Akuma-kun receives live-action TV series. Parents come to Tokyo to watch the first broadcast with him and applaud after it concludes. Also at this time sets up Mizuki Pro from his home in Chofu.

1968 (age 46)

At the suggestion of then-head of Toei Yoshinori Watanabe, changes Graveyard Kitarō to GeGeGe no Kitarō to make it more appealing to sponsors, anime adaptation is made. Family once again visits to view first broadcast and applauds afterwards. Show is a hit and goes on to be remade many times over the following decades.

1971 (age 49)

2nd anime begins airing.
Revisits Papua New Guinea after 26 years with former commanding officer Sergeant Miya and fellow soldier Ishihashi, reunited with the locals. From then on visits New Guinea many times, says he would like to immigrate there someday.

1985 (age 63)
1986 (age 64)
1987 (age 65)
1989 (age 67)
1990 (age 68)
1991 (age 69)
1992 (age 70)
1993 (age 71)

Shigeru Mizuki Road is opened in Mizuki's hometown of Sakaiminato.
At the suggestion of Kiyoshi Miyata, does research on the Hopi Indians. From there, begins traveling around the world to learn about "yōkai from around the world".

1994 (age 72)

Exhibition "Shigeru Mizuki's 53 Stations on Yōkai Highway: Let's Play with Yōkai" is held. From then on, regularly travels around the world.

1995 (age 73)
1996 (age 74)
1997 (age 75)

Kwai, the official magazine of the World Yōkai Association, begins publication through Kadokawa Shoten.

1998 (age 76)
2003 (age 81)
2004 (age 82)

Natuhiko Kyōgoku & Hiroshi Aramata hold "Oh! Shigeru Mizuki Show: Being a Lazybones" exhibition in Tottori Prefectural Museum. Later tours the nation until 2006.

2005 (age 83)
2006 (age 84)

Returns to Sepik River, Papua Gineau (joined by Aramata) for a TV documentary.

2007 (age 85)
2008 (age 86)
2010 (age 88)

Nunoe's memoirs, GeGeGe no Nyōbō, receive both a TV drama & film adaptation.

2013 (age 91)
2015 (age 93)

Dies of multiple organ dysfunction syndrome.
Pen-names
During his rental manga days, Mizuki would use several different pen-names across the many different publishers he worked for. In particular, in cases where he was in charge of editing a book himself, he would write several stories under different names for one magazine to make it seem like several authors worked on the book.
Below is a list of some of his most frequently used pen-names:[2][3]
Shinichirō Higashi (東 真一郎, Higashi Shinichirō)
From a dentist who rented from him during his days in Nishinomiya (Higashi) and the name of his older brother's first son (Shinichirō). Used throughout his rental days, but never at Togetsu.
Motetsu Mura (むら もてつ, Mura Motetsu)
From a nickname from his childhood. Used for some of his war manga.
Susumu Sekitani (関谷 すすむ, Sekitani Susumu)
Used for one-shots, essays and illustrations.
Shigeru Mura (武良 茂 or 武良 しげる, Mura Shigeru)
Mizuki's real name, used for one-shots, essays and illustrations.
Tomio Komegae (米替 富夫, Komegae Tomio)
Taken from the name of an assistant from his rental days. Used for one-shots.
Sanpei Senkiya (戦記屋 三平, Senkiya Sanpei)
Used for war essays. Senki means "war story".
Sanpei Nandemoya (なんでも屋 三平, Nandemoya Sanpei)
Used for science essays. Nandemoya means "jack of all trades".
Osamu Hagiwara (萩原 治, Hagiwara Osamu) and Hiroshi Horita (堀田 弘, Horita Hiroshi)
Pen-names given by publishers. Used for historical manga.
Saichi Sarutobi (猿飛 佐一, Sarutobi Saichi)
Used for ninja stories. Name is a play on Sarutobi Sasuke, a famous ninja.
Isamu Muto (武取 いさむ, Muto Isamu)
Pen-name given by publishers. Used for war manga.
Yōko Mizuki (水木 洋子, Mizuki Yōko)
Used for Shojo manga.
Awards
Mizuki has won numerous awards and accolades for his works, especially GeGeGe no Kitarō. Among these are:
Television appearances
Notable Acquaintances
Assistants
Ikkaku Tanabe - A professional storyteller. He met Mizuki early in his career and worked for him as an assistant for a time.
Yoshiharu Tsuge - Worked with Mizuki for Garo, began working as his assistant when he fell on hard times. Frequently battled depression and even went missing at one point during his time with Mizuki.
Ryōichi Ikegami - Hired by Katsuichi Nagai at Mizuki's request after reading his work for Garo. Worked as a live-in assistant for around two years.
Matsuzō Furukawa - Future president of Mandarake. He would later publish a discussion between other former assistants in Mandarake.
Kazuyoshi Kitagawa (北川 和義, Kitagawa Kazuyoshi)
Kenji Sasaoka (佐々岡 健次, Sasaoka Kenji) - Former rental manga artist and first chief assistant at Mizuki Pro. Hired by Shōichi Sakurai at Mizuki's request after seeing his artwork. In 2017, a collection of his work was published by Mandarake.
Yoshinori Yamaguchi (山口 芳則, Yamaguchi Yoshinori)
Shōji Hashimoto (橋本 将次, Hashimoto Shōji) - Former rental manga artist. Unable to live off of his rental work, he began working as a Mizuki Pro assistant. He later found success as a dramatist and S&M illustrator.
Shingo Tsuchiya - Later became a writer of erotic fiction. In 2013, he self-published a manga based on his time as Mizuki's assistant called GeGeGe no Assistant.
Masao Murasawa (村澤 昌夫, Murasawa Masao) - Chief assistant at Mizuki Pro. Influenced by Mizuki even in his later years. In 2017, published his memoirs, Mizuki-sensei and Me, through Kadokawa.
Miei Ishiguro (石黒 美影, Ishiguro Miei)
Masaki Itō (伊藤 正樹, Itō Masaki) - Former rental manga artist.
Fellow Yōkai Enthusiasts
Friends, fans and others
References
Community content is available under
CC-BY-SA
unless otherwise noted.