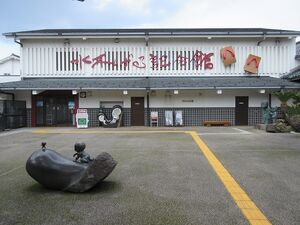 The Shigeru Mizuki Memorial Museum (水木しげる記念館, Mizuki Shigeru Kinenkan) is a museum dedicated to the life and works of Shigeru Mizuki. It is located in Sakaiminato on Shigeru Mizuki Road.
About
The museum focuses on providing information and displays about Mizuki and the world of yōkai, containing many sculptures of Mizuki's characters as well as yōkai artifacts from Mizuki's personal collection from all over the world. It is the final destination of Shigeru Mizuki Road, and receives a healthy number of visitors, particularly tourists during Golden Week or summer vacation.
The museum was first proposed in 1996, with the goal of opening in April 1999, but Sakaiminato's financial difficulties at the time put plans on hold. However, Mizuki Road's ability to attract customers greatly exceeded expectations, so to cope with the massive rise in tourism support for the museum strengthened. The museum opened on March 8, 2003, Mizuki's 81st birthday. On it's opening day it received 1,747 visitors.
On March 8, 2012, the museum had it's first renovation since opening and installed several new displays.
Displays
GeGeGe no Entrance
Shigeru Mizuki's Manga World
Mizuki Gallery
A Half-Asleep Lifetime
Yōkai Cave
Yōkai Square
Hall of Lifetime Scrolls
GeGeGe no Food Court
Business Information
Business hours
9:30am to 5:00pm
Admission ends 30 minutes before closing
Open year round
Admission fees
General admission - ¥700
Students (junior and high school) - ¥500
Students (elementary) - ¥300
People with disabilities and their caregivers - ¥300.
Groups of 20 people or more - ¥100 per person
Audio guides
Smartphone audio guides are available for free in Japanese, English, Chinese, Korean and Russian.
Non-smartphone devices are available for ¥100 in Japanese and for free in other languages.
Gallery
Community content is available under
CC-BY-SA
unless otherwise noted.