Jurassic World: Dominion Dominates Fandom Wikis - The Loop
Play Sound
Tearai-Oni (手洗い鬼 Tearai-Oni, lit. Hand Washing Demon) is a yōkai.
Appearance
His appearance in the manga is drastically different from his illustration and the design used in the fifth anime.
Personality
History
Kitarō Kunitori Monogatari
Although he was summoned from Shikoku to aid Kitarō and others to capture an egg-shaped UFO which was an order of the deputy prime minister of Japan, he was a rough individual. Being irritated with the quick-moving UFO, he ignored the priority and crushed the UFO with his foot, killing the alien inside, but he was happy with the outcome. Humans accused his actions and told Kitarō and others to take him home.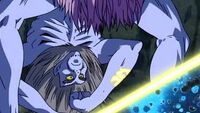 He appears in GeGeGe no Kitarō: Nippon Bakuretsu!! He is one of the chosen 47 Yōkai Warriors and represents Kagawa Prefecture.
Due to the fifth anime adaption's sudden cancellation at 100 episodes, he is among the 23 Yokai Warriors that were not revealed aside from the movie. 
He briefly appears in episode #48 The Void of Despair and Darkness along with many other yōkai.
Powers and Abilities
Legend
Shigeru Mizuki noted that Tearai Oni was also called オジョモ (Ojomo), and was a henchman of Daidarabotchi.[1]
References