Tenaga-Ashinaga (手長足長 Tenaga-Ashinaga, lit. Long Arms, Long Legs) are a pair of yōkai with extraordinarily long limbs. Tenaga having long arms whilst Ashinaga has long legs.
Appearance
Tenaga-Ashinaga are two separate human-like yōkai who work together as a team. Tenaga has fair skin with a bald head, save for the dull grey hair on his sides that form a muttonchops and bushy eyebrows atop his eyes. He has slightly visible ribs and his most notable feature is his long arms. Ashinaga on the other hand, has brown skin, a round head with ruffled black hair and a big mouth with two missing teeth, one from each row. His eyes have blue scelrae, his chest appears to be more muscular than Tenaga and conversely he has long legs. Their only piece of clothing are pink straw skirts and they both lack any footwear.[1]
Personality
In the third anime, Tenaga-Ashinaga held a grudge against octopi because of Ōdako, their ancestor, sealed the two with the Kaname Stone which neutralizes their yōkai energy. As revenge, Tenaga-Ashinaga turned many octopi into half-octopi and made them dance, watching them in amusement.
History
Tenaga-Ashinaga appeared in episode #81 of the third anime adaptation, Combo Yōkai Tenaga-Ashinaga.[1]
Tenaga-Ashinaga appeared in episode #25 of the fifth anime adaptation, as one of the many participants of the sports festival.[2]
2018 Anime
Abilities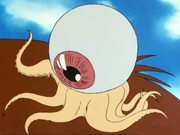 In the third anime, Tenaga was noted to be skilled with magics while Ashinaga was physically strong.
Octopus Transfiguration: Tenaga-Ashinaga can turn any organisms into an octopus hybrid. They can also turn octopi into half-octopi hybrids as well.
Legend
References
Community content is available under
CC-BY-SA
unless otherwise noted.