Jurassic World: Dominion Dominates Fandom Wikis - The Loop
Play Sound
Tsuchi-Korobi (土転び Tsuchi-Korobi, lit. Earth Roller) is a Yōkai that rolls around the forest in the form of a ball of soil.
Appearance
There are two or three types of Tsuchi-Korobi. Tsuchi-Korobi's appearance is that of a giant mass of brown hair, with an elephant trunk, or arm in some adaptations, as their only appendage, just below their small eye.
Personality
History
Manga/1971 Anime
Tsuchi-Korobi's race was thought to be extinct, but a remnant cell was underwater and a human absorbed the scientific wastewater from a factory and was turned into a new Tsuchi-Korobi.
1985 Anime
1996 Anime
2007 Anime
Tsuchi-Korobi appeared in the 48th episode.[1]
It also made a brief appearance in the movie based on the fifth adaption, GeGeGe no Kitarō: Nippon Bakuretsu!! It was seen frolicking in the streets after the balance between the yokai and human worlds started to fall apart.
2018 Anime
Two Tsuchi-Korobi appears in the opening animation of the sixth anime adaption during the sports festival scene.
Powers and Abilities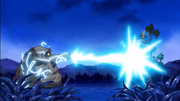 Energy/Electricity/Gasoline sucking
Electricity Emission
Tree intaking
Size shifting
Rolling
Human Possession
Adhesive Spit (粘着つば Nenchaku-Tsuba): Tsuchi-Korobi can spit out a yellow-green-colored spit, that is very sticky and can immobilize his targets.[2]
Dissolving Spit: By spitting out a lavender-colored liquid, Tsuchi-Korobi can dissolve his adhesive spit.[2]
Legend
In western Japan, some of Tsuchi-Korobi's legends are connected to that of Nozuchi and Tsuchinoko.
References