Ubaga-Bi (姥ヶ火, 姥が火, or うばがび Ubaga-Bi, lit. Old Hag Fire) is a fire Yōkai.
Appearance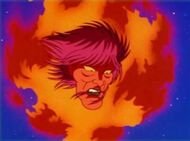 In the 1985 anime, Ubaga-Bi is a floating, disembodied head of a woman, with pink skin, red-pink hair and her eyes have no discernible sclerae. Surrounding her head are red-pink flames, which her hair follows their direction.
Within the 1996 anime, Ubaga-Bi retains her appearance, however, her skin is more orange, her hair is now red, her eyes now have yellow sclerae and visible pupils. The flames that surround her are now a mix of red and orange flames.[1]
In the 2007 anime, her appearance is drastically different from previous incarnations, her hair is now lavender and much straighter, all flowing in a single direction. Her skin is now light blue, and her flames are light purple in color.
Within the 2018 anime, her hair has more volume and is dark red, her face also has a red skin tone and her eyes have small pupils and her sclerae are white. Her flames are now yellow and orange, which constantly shifts between the two.[2] Her appearance in Mana's dream, however, resembles her 2007 anime appearance, being a light blue-skinned head with long white hair. The flames however are orange and are not as spread out.[3]
Personality
History
1985 Anime
1996 Anime
She appears in episode #50, Fukikeshi-Babaa's Amusement Park. Having caused fires while in the presence of couples. She was too powerful for Kitarō, so with the help of Fukikeshi-Babaa empowered by his Chanchanko, she was finally defeated.[1]
Although she was an antagonist in the above episode, she later appeared in the movie GeGeGe no Kitarō: Obake Nighter as Kitarō's friend.
2018 Anime
Ubaga-Bi briefly appears as one of the yōkai on the Ghost Train in episode seven who scares the company president. Later, she appears with the others, watching as the company president is sent to Jigoku by the Ghost Train.[2] She appears again later in Mana's dream as one of the students in her class.[3]
Powers and Abilities
Fire Manipulation: Ubaga-Bi is able to set things on fire with the use of the flames around her. As the majority of her body is made up of the element in question, she gets weaker if her flames are doused.[4]
Levitation: She is able to float above the ground.
Legend
Trivia
References