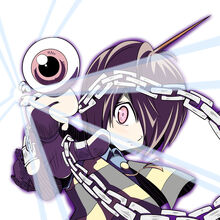 Hello, everyone! You can call me Riza.
Need to contact me? Leave a message on my Message Wall or email me at rizaxkurta@gmail.com. You can also send me a DM on Instagram, my username is @riza_kurta.
GeGeGe no Kitarō Accounts & Communities
I am affiliated with a variety of accounts and communities dedicated to the GeGeGe no Kitarō franchise. These include, but are not limited to:
Discord
I made a GeGeGe no Kitarō Discord Server for the fandom! Here is the invitation link: https://discord.gg/Y3PuAQ4.
YouTube
I created and manage the GeGeGe no Kitarō Wikia channel on YouTube. This channel is for uploading content to be shared on this wiki, such as openings and endings in the highest quality possible. All videos are unlisted as they are only uploaded for educational purposes. Currently, the channel has uploaded content for the following pages: BiBiBi no Nezumi-Otoko, Yōkai Yokochō GeGeGe Bushi, Kakumei no Uta ~Diggin'~, Star Fruits, Kagami no Naka kara, GET A NOTE, Mienkeredomo Orundayo, No.999, Aru Wake Nai no Sono Oku ni and A.M.D.K.J..
If you would like to request an upload for a page on this wiki, contact me!
Favorite GGGnK Characters
All equally loved!
Across various adaptions:
From 2007:
From 2018:
AMVs
I'm an introverted editor. Originally from Vine, I'm now primarily on Instagram, using YouTube for better quality. As such, my AMVs are usually shorter than one minute, and loop.
I mostly edit my top two favorite Anime, GeGeGe no Kitaro and Hunter x Hunter. Since GGGnK 2018 is out and is releasing new episodes, it's currently the main show I edit.
As much as I love to type, I love expressing things though edits more! It is very time-consuming, though.
Community content is available under
CC-BY-SA
unless otherwise noted.