Ushirogami (後神 Ushirogami lit. Behind Spirit) is a Yōkai and antagonist of Kitarō. She first appeared in the Shonen Magazine story of the same name.
Appearance
Ushirogami's appearance is that of a young woman with pale skin, pointy ears, long white hair that reaches below her waist and is slicked to her back. Her face is entirely black with the only features visible are eyes with large black pupils. She wears a plain-looking kimono which becomes a long wispy tail.
In the 2007 anime, she wears a peach-colored kimono with an orange kimono underneath it and a red obi, and her eyes have yellow sclerae.[1]
Personality
History
Shonen Magazine / First Anime
Ushirogami appears in episode #61 of the first anime adaptation, Ushirogami.[2]
1985 Anime
Ushirogami appears in episode #59 of the third anime adaptation, Ushirogami the Evening Primrose.[3]
1996 Anime
Ushirogami appears in episode #55 of the fourth anime adaptation, Zashiki-Warashi and Ushirogami.[4]
2007 Anime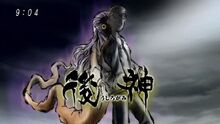 Ushirogami appears in episode #86 of the fifth anime adaptation, Fear Approaching From Behind! Ushirogami.
In this episode, Ushirogami becomes interested in the new, modern houses that humans are building, and desires to live in one. She uses a Yōkai Cactus in order to get rid of the family living in one of the houses. After Kitarō arrives and defeats her, she willingly agrees to leave the home and Sunakake-Babaa offers to let her stay at her apartment at Yōkai Yokochō. Ushirogami leaves the apartment due to its old structure, and ends up staying at Ohaguro-Bettari's bathhouse to work in order to buy a beautiful modern house.[1]
2018 Anime
Ushirogami appears in episode 59 of the 2018 GeGeGe no Kitarō anime Promise to the Female Yōkai Ushirogami.[5]
Powers and Abilities
Appearing and Vanishing: She is able to appear and disappear quickly from behind a person.
Levitation: Ushirogami is able to float above the ground with ease. She is also able to float high and fly around.[1][2][5]
Equipment
Yōkai Cactus: She uses the Yōkai Cactus to get rid of the people living in the home she haunts, having it consume them.
Legend
The Ushirogami love to scare people by leaping out and appearing right behind them. They often tug on the hairs on the back of a person's neck and then vanish just as they turn around to see touched them.
References