Jurassic World: Dominion Dominates Fandom Wikis - The Loop
Play Sound
Yagyō-san (夜行さん Yagyō-san, Mr. Walk at Night) is a Yōkai from the anime and manga series of "GeGeGe no Kitarō". He often rides on Kubinashi-Uma.
Throughout the series, his position varies from a higer being similar to a god to an oni of a higer rank although his most well known career is an inventor especially the yokai car. In his first appearance in Saishinban GeGeGe no Kitarō, Yagyō-san is described to be more close to god than Yōkai, and even though he was initially under Nurarihyon's command, he was regarded as higher at rank than Nurarihyon.
Appearance
His original appearance in the manga was later reused as of Jigoku-Musha in the third anime while Yagyō-san's minions had the appearance of Yagyō-san in the series.
Personality
History
Manga
Yagyō-san first appeared in the second chapter of the 1980s manga Saishinban GeGeGe no Kitarō as the leader of the Hyakki-Yagyō. He was originally working for Nurarihyon but was defeated in chapter 6 and subsequently joined the Kitarō Family. He rides a headless horse called Kubikire-Uma.
In GeGeGe no Kitarō: Kitarō Jigoku Arc he was a guard in the Hunger Realm. Sometimes he has many look-a-like subordinates with him.
Starting with the 1985 anime, he is depicted as a Yōkai inventor.
In the fifth anime adaption, he runs a research facility in Yōkai Yokochō. His first main appearance in the series is in episode #7.[1]
He appears in episode #28, The Great Yōkai War. He appears along with several other yōkai of the GeGeGe Forest to help Kitarō fight off the Western Yōkai.[2]
He joins the crowd of yōkai gathering around the GeGeGe House, trying to drive Agnès out of the forest. He listens as Medama-Oyaji warns that if they drive her out then the tragedy Malay yōkai will repeat somewhere else. Soon followed by Kitarō as he explains how grave the consequences are if Japan becomes a part of Backbeard's empire. This causes the crowd to look at one another, until their attention is drawn to Kitarō as he stands on his resolve to fight.[3]
Yagyo-san sits on a trash can in an alley, reading a flier from Nurarihyon, stating that it is time that all Yokai should stand against humans.[4]
Powers and Abilities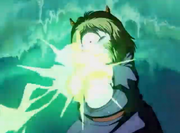 Iron Skin
Physical Immortality
Yōkai Energy Bolt
Equipment
Sickle
Daggar
Iron Whip
References